The Miku Restaurant held their North American debut party in Vancouver last evening. Tora Corporation already run 8 successful restaurants and is adding to their global brand by opening Miku, a Japanese fusion fine-dining restaurant specializing in Aburi-style sushi (lightly flame-seared and infused with savoury French sauces); there are also plans to open restaurants in New York and LA.
This Vancouver grand opening event was well attended and organized. There were various pieces throughout the evening including a Taiko drum performance, a traditional Japanese religious prayer and even a swing band to follow. Of course, there was plenty of good food for all who attended. Here are a few photos from the evening.

Aburi-style, flame-seared sushi!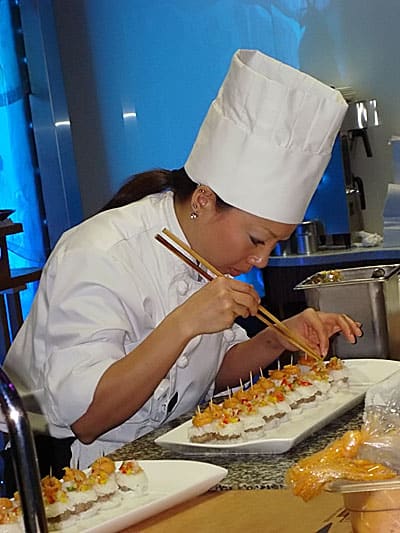 Plating some gorgeous sushi.

Yummy sushi and tower veggies.

Amazing to hear Taiko drummers live in action!

Tai Hasumi (General Manager of Miku) explaining to Gloria Tsang (Editor-in-Chief for HealthCastle.com) that Miku will use organic, local ingredients where possible to ensure the freshest food.

Thanks goes out to Beth Boyle from Spark for the invite. A job well done.

Brendan Mclean, an old colleague of mine, happened to be playing in the swing band this evening! What are the chances? I have not seen him in ages and bumped into him at this event.

Here is Brendan playing drums with the swing band.

Is this sushi bar long enough? There is actually more of it on the other side of the restaurant!