The kids often ask for mac and cheese. I love mac and cheese too but I am just not too thrilled about having to use a ton of cheese and milk / cream to make it delicious. I have tried variations with less cheese and even ones more on the tomato-ey side but it's just not the same. This all changed when I learned how to make my own cheese. Well, it started off as a cheese sauce but it turned out even better than I thought as a vegan aioli. On top of it being great tasting, you can literally eat as much of it as you want as it is made entirely of vegetables! You can even use it as a dip or to sauce other recipes. In short, your kids can eat as much of it as they want and they won't even know they are eating something made entirely of veggies. It is savoury, a little pungent and oh, so yummilicious!
Here is the final result as it turned out more like an aioli. I am very happy with this as it makes a great sauce for many applications! Here is an example of it as a dip for oven-roasted potatoes and carrots!
Yield: 4 cups
The Best INSTANT POT Vegan Aioli / Cheese Sauce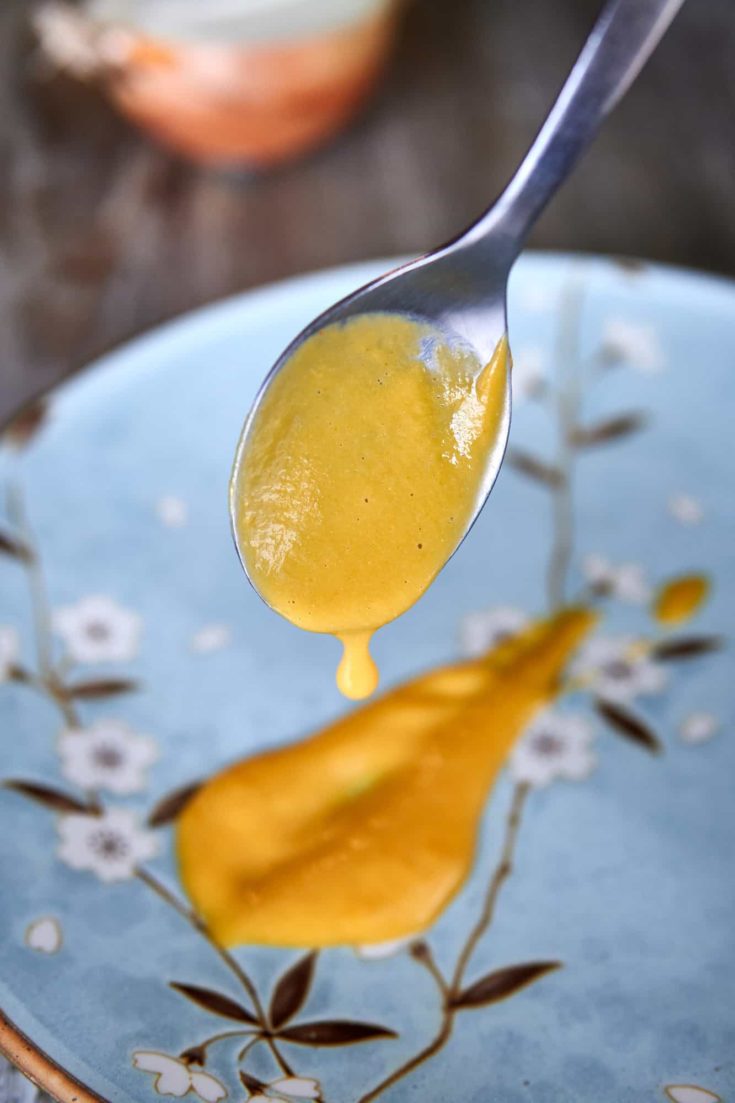 This delicious cheese sauce can be used for your mac and cheese, as a dip or to sauce other recipes.
Ingredients
2 cups Water
1 cup Carrots, (peeled and rough chopped)
2 cups Potatoes, (peeled and rough chopped)
½ cup Onions, (peeled and rough chopped)
2 cloves Garlic
1/2 cup Nutritional yeast
2 tbsp Miso Paste
1 tsp Paprika, (regular or smoked)
2 tbsp Lemon juice
2 tsp Salt
1 ½ tbsp Apple cider vinegar
Instructions
Place all ingredients in your Instant Pot
Close Instant Pot lid
Select MANUAL (High Pressure) for 5 minutes
When the Instant Pot has come up to pressure and completed the 5 minutes of pressure cooking, you can do a manual release of the pressure
Carefully transfer all content from your Instant Pot to your Vitamix or blender. If you do not have a counter top blender, you can use a hand immersion blender for this step.
Blend content for 1.5 to 2 minutes or until the sauce is very creamy. If the mixture is too thick, you can add 1/4 cup of milk (plant or regular) to thin it out.
You can serve this cheesey sauce on your mac and cheese, use it as a dip for fries or veggies or even use it as a sauce for your chicken or steak. I bet this sauce would work really well in a submarine sandwich or in burritos.
Refrigerated sauce can be used cold as a dip