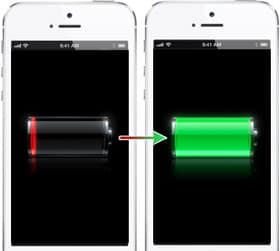 Since purchasing the iPhone 5, I have noticed something peculiar. The battery just seems to be draining much too fast. I did not measure CPU usage or minutes used but as someone with a technology background, something tells me that the battery life on my new iPhone 5 just does not seem to be performing up to par. After some searching, it looks like others are also having the same battery drain issue. There are lots of posts floating around reporting that when an iPhone 5 was initially activated via a "Restore" from an iPhone 4(S) backup (versus setting it up as a new phone), battery life drained much faster as compared to the iPhone 4.
iPhone 5 – Reports of Battery Drain Problems
Personally, I never activated via a back up and instead set up the iPhone 5 as a new phone; and oddly enough, I was also suffering from the battery draining way too fast. More digging lead to many articles discussing ways to disable features and services on the iPhone 5 to minimize battery usage. Yes, it does make sense to slim down push notifications, location services, Bluetooth, Siri, screen brightness and even vibrations etc… The thing was, I have already tweaked all of these settings. Many users also reported disabling WiFi or even LTE allowed them to get more life out of the iPhone 5's battery. This was not an option for me. I paid for a phone with these capabilities and I want to use it at will.
Yet more reading let to recommendations to put the iPhone 5 into DFU mode and re-run a clean install; citing that a firmware will be updated through this process. For those who don't know what DFU mode is, not to worry. The solution that I am sharing with you does not require you to enter into this mode.
My Own iPhone 5 Battery Problems
Before following these instructions, use of the iPhone 5 on WiFi plus being on the cellular network would drain the battery at about 10-20% / hour. This was not heavy use either, just some social media apps, email, short voice calls and texting. At this light usage rate, I would barely get to the end of the day before the iPhone needed a re-charge. When out and about without WiFi, the battery drain was even faster. As an example, before I finished breakfast and reading a few important emails, the phone would lose about 3-5% of its battery. This was through very light usage for only 15 minutes or so and it is just not acceptable.
The worst example I can share of the high battery drain is throughout the day, I would swipe to unlock the iPhone 5, quickly check emails, Facebook and Twitter, then leave the iPhone to dim itself after 1 minute. This was in both WiFi and LTE modes. Each time I did this, I can see the battery drain itself by 1% almost every single time. Again, this is just not acceptable.
Reports also show that users in a poor cellular signal strength area will use more battery as the iPhone is continuously trying to connect to a better signal (or something to that effect). LTE in my area is just ok, 2-3 bars and at times would bounce to 4 bars (out of 5). And apparently, LTE sucks up more juice than 3G and we all know that 3G usage already eats up battery quickly. Given this, the odds were stacked up against me in trying to find a fix. I just could not live with the fast battery drain and with more research, apparently this time, I beat the odds.
iPhone 5 Battery Draining Very Fast – SOLUTION
I am actually not sure who suggested this fix (I read quite a few tips and solutions during my research that I lost track) but this was what I tried and it completely reversed the ill effects of the iPhone 5 losing its battery way too quickly. Checking emails, Facebook and Twitter for 1 minute no longer costs me 1% of battery life! In fact, after the tweak, I have checked my email, Facebook and Twitter about 10 times AND sent an email with a photo attachment and have yet to see any battery % drop! Talk about a night and day difference.
If you also have a fast draining battery on the new iPhone 5, I hope this can help you too.
Note: I am running iOS 6.0.1 and experienced the fast battery drain. This solution fixed my problem!
1. Backup your iPhone after it is plugged in to your computer. Use iTunes to make a backup. Note, this is not just a Sync, it's a backup. Plug the iPhone to your computer, wait until iTunes detects it. Inside iTunes, right click on your iPhone and start the backup.
2. On your iPhone 5, go to General >> Reset >> Reset All Settings (follow on-screen instructions). This should not (but I cannot guarantee it) delete any apps or data. It should only revert Settings of the iPhone like, Siri, ringtones and other settings to a default state. But do back up your photos and videos just in case before proceeding. I take no responsibility if your iPhone crashes, dies or if you lose any data after following these instructions.

3. After the Reset, the iPhone 5 will reboot. Use the remaining battery all the way down to to 0%. In fact, use it until the iPhone powers itself off. Just to be sure, wait 10-15 minutes after that just in case there is residual juice left over.
4. Now charge it up to 100% and leave it on the charger for an additional 30 minutes (just in case). This should take 2-3 hours.
Voila! The above fixed my iPhone 5 battery drain problem. The results were instant (right after the 0 to 100% charge up). The iPhone battery meter (image below) showed I used 11% during this 30 minute session of heavy usage – LTE / 3G going through about 10-15 MB of data using email, Facebook, Twitter, various apps, Safari surfing websites and the whole time with music playing. This may or may not seem good to you but I would have never gotten this prior to Reset All Settings. This battery usage rate, although not great, is much more acceptable than prior to the reset.
iPhone 5 Battery Draining Very Fast – Possible Solutions
I am not exactly sure what fixed the battery drain issue on the iPhone 5. Based on what I did, it could be any or all of the following:
A. Simply performing a Reset All Settings
B. Simply draining the iPhone to 0% before re-charging
C. A + B
In addition, I did remember seeing 4-5 crash reports before the Reset. Twice for the Skype app and at least once for the Camera app. Maybe the heavy battery usage was related to these app crashes? After the tweak, I only see a low battery log under Diagnostic & Usage. Perhaps the Reset cleared up some software issues that was somehow related to the battery drain?
So, a good tip is for all new iPhone 5 owners to perform this Reset right after you activate your new phone (before you install apps and add data). Doing it at this time has no downside and may just save you a bunch of hair pulling. Hope this helps.
Note: Did the above tweak work to fix your iPhone 5 battery drain problem?