Not being able to use the Wyze camera motion sensor to trigger Alexa to say something was a big pain point for me. And from what I see in the Wyze Facebook Group and forum, for many other users as well. Wyze has always had great updates and finally, their motion and contact sensors are Alexa friendly. This means, when these sensors are tripped, you can use Alexa to broadcast an audio phrase to an Echo device. This is super helpful. Since Wyze motion and contact sensors can trigger Alexa to announce an audio message, I was hoping to do the same with the motion trigger from the Wyze Camera (V2 and Pan Cam). Guess what? It's not possible. At least not as of the this article being published.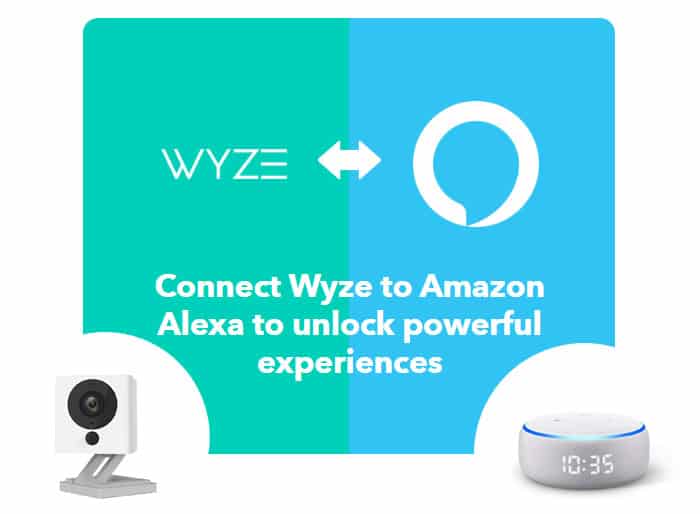 Having an audio message being played when your camera sensor is triggered is extremely powerful. Imagine if someone broke into your house and is greeted with a loud voice warning them that they are being recorded, uploaded to the cloud and that proper authorities have been notified. Also, receiving an early warning message being played in the bedroom when a break-in happens in another section of the home would buy the home owner more time to better deal with the unfortunate situation; or better yet, having the audio message may completely scare off the intruder.
Wyze Cameras Cannot Trigger Alexa Routines
The Wyze motion and contact sensors can indeed instruct Alexa to play an audio message. Alexa tells me when our garage door has been opened or if the Wyze motion sensor has been triggered but Wyze camera motion detection cannot trigger Alexa.
In short, I wanted an audio message to tell me when something triggered the Wyze cam that is pointed at our yard. And I needed this messaging to be within a set schedule (ie. at night time only). I was disappointed to find out that this was not possible.
Note: Wyze cameras are indeed recognized by Alexa but they are not fully Alexa routine friendly. Even though Wyze Skills have been added to Alexa, routines cannot be triggered by Wyze camera motion sensing. Wyze cameras can only be on the reaction end ie. something else needs to be a trigger and Alexa can ask Wyze cameras to perform a few limited actions.
Other users on the Wyze Facebook group tell me that they can use person detection with Alexa to accomplish the above but I have no way to authenticate if person detection could actually instruct Alexa to make an announcement. Person detection has been removed from the Wyze app and is now only available to subscribers of the Wyze cloud service. I am not a subscriber unfortunately. Wyze support has confirmed that person detection is indeed meant for Cam Plus subscribers (cloud subscription) only. The reason why some non-subscribers still have access to this feature is because they have opted to use it during the beta phase and Wyze is granting them usage for free until the end of 2020.
Either way, I was about to find a work around for the rest of us. There has got to be way with all this tech floating around right?
IFTTT and Webhooks to the Rescue
From my research, it looks like most people use IFTTT and Webhooks to send Alexa a notification. But, an Alexa 'notification' is not the same as an 'announcement'. Notifications only arrive as an audio "ding". You then you have to ask Alexa to read you the notification message.
Alexa announcements are much more powerful and can instruct Echo devices to read your messages out loud and immediately. In fact, during my tests, I would almost always receive these Alexa announcements before my Wyze cloud alerts.
The last 24 hours of deep learning and testing has finally yielded a solution to allow my Wyze Camera's motion sensing to trigger an Alexa routine. This routine now instructs Alexa to announce a custom voice message on my Echo devices. Yeah for deep learning.
Note: This is a bit of a technical setup. But if you follow these instructions, it should work for you as well. Sometimes, Alexa may throw an error. If you encounter such issues, just delete that routine, restart the Alexa app and let everything sync up and start over. Here goes.
Voice Monkey Is the Missing Link
If you are reading this, I assume you already have Wyze cameras and Alexa (various Echo devices). You will also need the following:
Alexa account and Alexa app on your phone
Voice Monkey skill activated within the Alexa app
IFTTT app on your phone
Wyze and Webhooks skills activated inside the IFTTT app
IFTTT, Voice Monkey and Webhooks are way easier to manage for copying and pasting on a computer. You can only use the Alexa app to create a new routine.
Use Wyze Cameras to Trigger an Alexa Routine
You will need to enable the Voice Monkey Skill in your Alexa app and link it to your Amazon account. I won't provide a link. There is a US and a Canadian version. Go to Alexa app > More > Skills and Games and do a search for Voice Monkey and enable this service. The logo should look like this.
During the linking process, you will be asked to sign in to Voice Monkey. You don't need to create a enw account. You use your Amazon credentials to authenticate. You can sign in on your phone or computer at Voice Monkey's website. I used a computer as it's easier to create the needed URL and then just messaged it to my phone. There is a link in Step #2 on that page that says Sign In. You will be taken to the proper login page (it's a pop up linking to Amazon).
Now there is a 'Login with Amazon' button. Use this to log in. Note: I cannot speak to the privacy or security of doing this. As a consumer, I am assuming Amazon has high security protocols in place to protect all of us. It looks like you login to Voice Monkey using an Amazon login URL & Amazon credentials. I am hoping this is secure enough. In fact, if you have a concern about this log in process, please leave a comment below.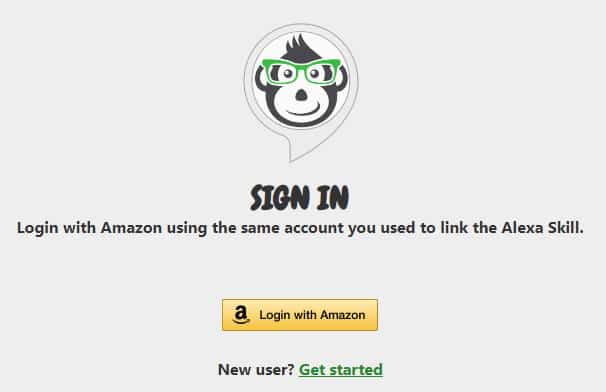 Once logged in on your computer, you can select Manage Monkeys > Create a Monkey. Once you have created a new Monkey, go to their URL Generator here. To keep things simple, leave all settings at default for now. Voice Monkey defaults to Announcements (as opposed to being a Notification). You don't have to change your message. We just need this service to fire properly and your Alexa Routine will control the final phrase. Just click GENERATE URL.
In fact, if things are going smoothly, once you create a Monkey, Alexa should announce to you that it found a new device with the proper Monkey name. If not, delete that monkey and create a new one. It's best to have Alexa recognize your Monkey right away.
Alexa Custom Phrase
Now when you go to Alexa > More > Routines > +
Give your routine a name
Click When this happens > Smart Home > SELECT YOUR MONKEY
Your screen will show "When MONKEYNAME is pressed". Press SAVE
Add an Action > Alexa says > CUSTOMIZED Phrase
I tried this as my test and the kids loved it.
Motion has been detected. You are being recorded and uploaded to the cloud. Authorities has been notified.
The best part about using an Alexa Routine is that it allows for scheduling. I only want my Wyze camera motion to warn me at night time. So don't forget to choose a schedule for your new routine and then choose the device you want to broadcast this phrase. Since the Echo is in the bedroom and probably at a lower volume, I have also added a reaction to adjust the Echo volume to 6 before announcing the custom phrase. And, I copy and paste the phrase 3 times in Alexa just to make sure it can wake me up! Save your routine. That's it on the Alexa side.
One Last Step: IFTTT + Webhooks
By now, if you grab your URL from Voice Monkey and enter that into your web browser, it should prompt Alexa to say your custom phrase! So to tie everything together, you now need to use IFTTT + Webhooks. Sounds difficult but it's quite easy. Just follow these steps.
Open IFTTT on your phone (I assume if you are reading this blog you already have an IFTTT account). If not, just sign up for one. Here is the proper sequence to complete the final step.
Open IFTTT > Tap Get more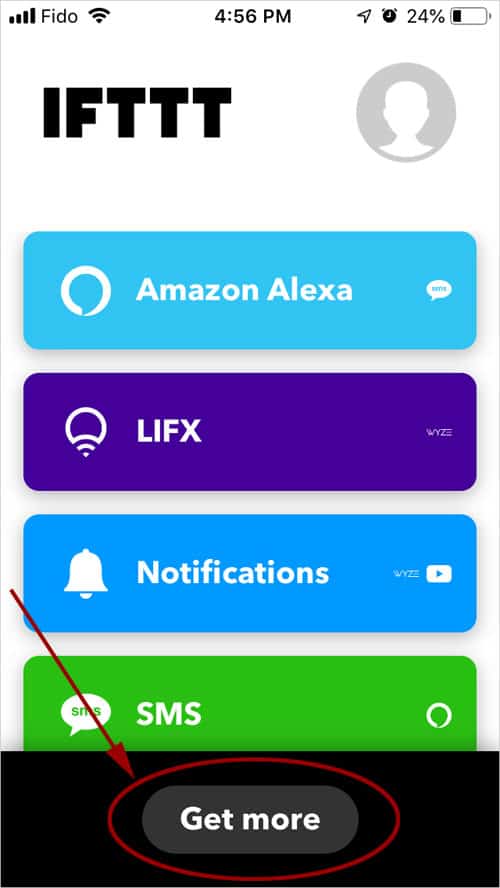 ---
Tap Create
---
Tap This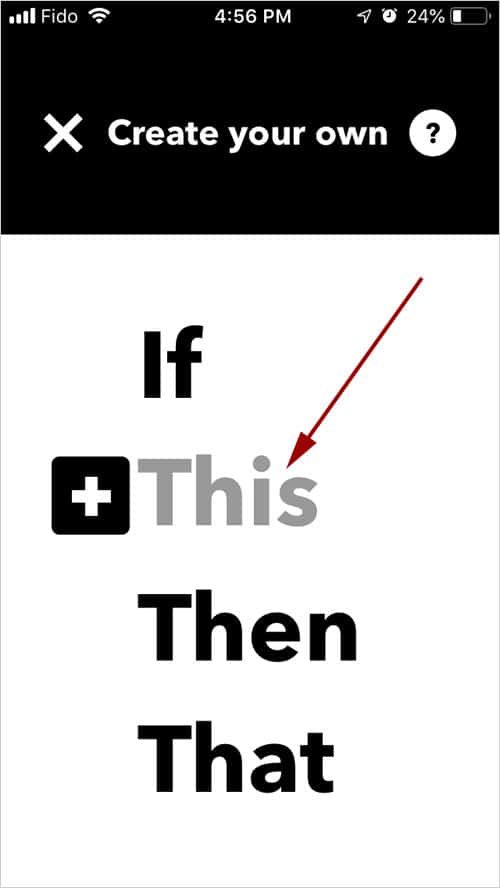 ---
Search for Wyze and Select it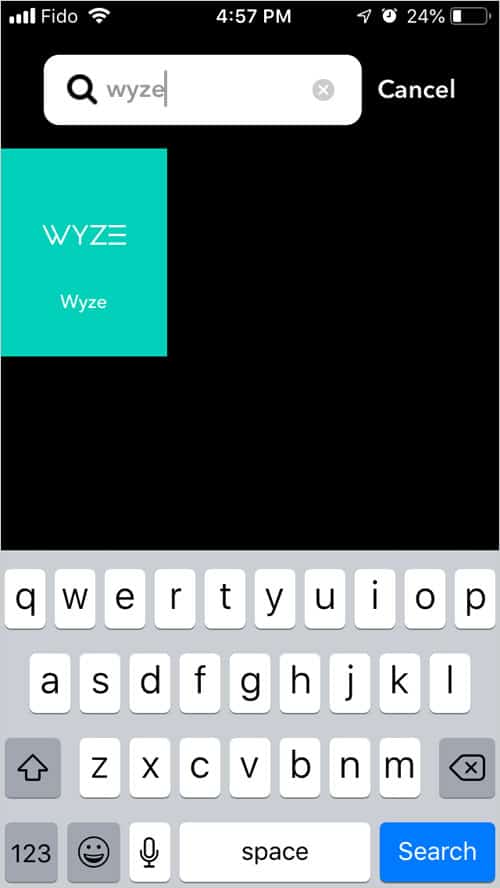 ---
Top on Motion is detected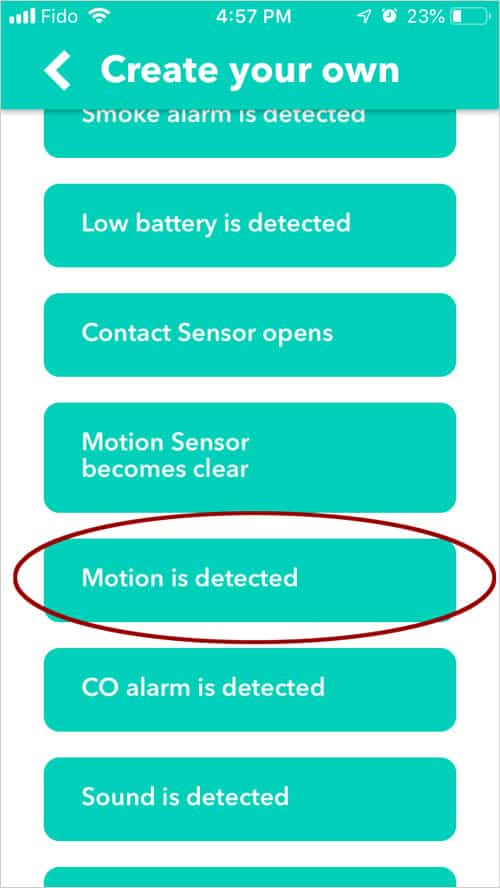 ---
Select your Wyze Came, tap Create trigger
---
Tap Then
---
Search for Webhooks and Select it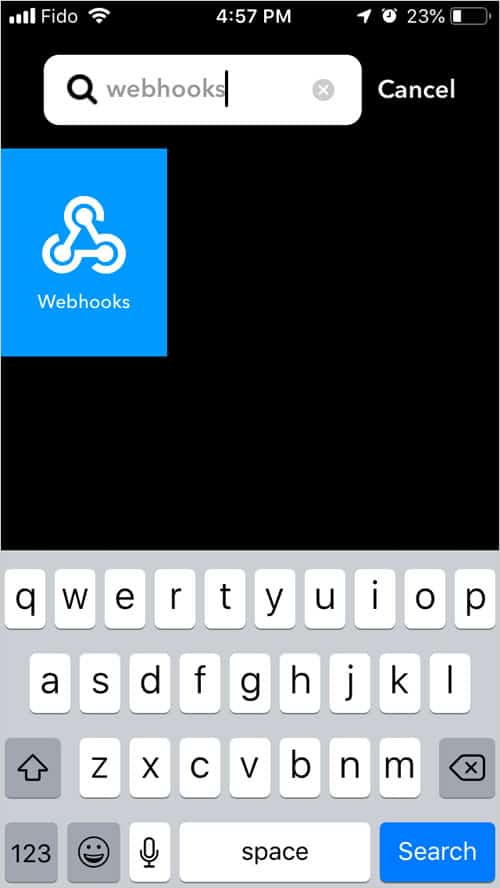 ---
Tap on Make a web request
---
Paste in your Voice Monkey URL to the URL field below. The one that you generated from above and was able to trigger Alexa to say something.
---
Choose POST for Method. Tap Create action.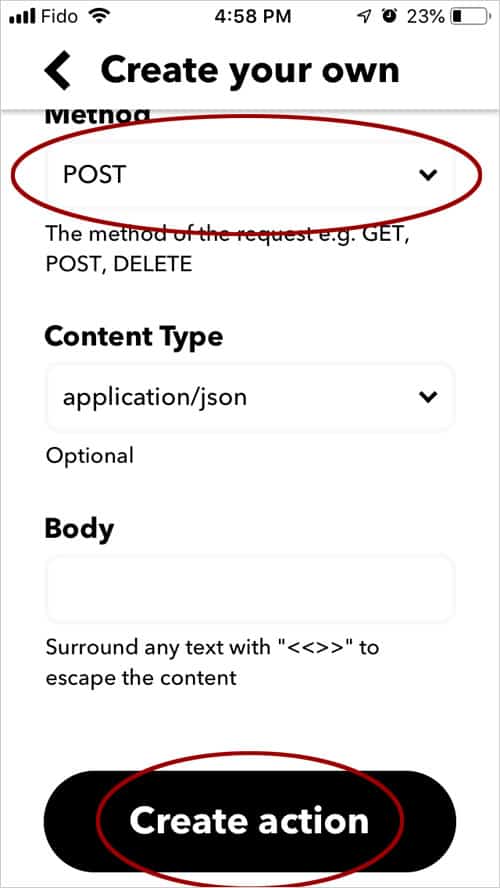 ---
Tap Finish. You are done!
That's it. Allow IFTTT a minute or 2 to tidy things up and sync. If things went smoothly, your Wyze camera motion trigger is now ready instruct Alexa to announce your chosen phrase!
Conclusion
After some testing, the Alexa announcement happens almost in real time and is much quicker than Wyze cloud alerts. Reason being, Wyze cloud alerts require the footage to be uploaded to their cloud before sending you an alert; this takes time. The Voice Monkey method seems to send the notification to Amazon once the Wyze camera detects motion. If all services are working properly, you will receive your Alexa announcement before your Wyze notification.
I have also noticed that this Voice Monkey + Alexa routine has to work within the parameters of the Wyze 5 minute cool down period. So you will only receive Alexa announcements at a maximum of once every 5 minutes, just like all Wyze cloud alerts for non-subscribers.
I love hearing Alexa tell me when Wyze motion or contact sensors have been triggered. Of course, I would like it even more if we could use Wyze cameras to trigger Alexa routines instead of relying on 3rd party tools (3 extra tools in this case). I actually have no idea if Wyze have plans to make camera motion available for triggering Alexa for non cloud subscribers, but as of right now, the best and free way to make this happen is to use the procedure above.
The Best Part
As I mentioned, Alexa routines come with a schedule. Not even the current Wyze app has a scheduling function. For me, I only want Alexa to notify me using audio of camera motion during the night time. For the rest of the day, I can live with a phone notification. And for those with an Echo Show, you can actually now use the above procedure to have an Echo device instruct your Echo Show to display your Wyze cam feed as well. Let me know how this works as I don't have an Echo Show.
If you have read this far, thank you. I have been known to use Alexa routines to remind the kids to do their chores when a motion sensor is triggered! lol So, do share your custom phrases in the comments below. Would love to hear what you end up using for Alexa announcements!