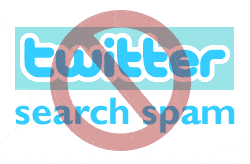 Twitter's search actually does a pretty good job at locating tweets for a particular geographical region. Just enter the city name in Twitter search and it will find all results containing this city. Recently, there has been an increase in Twitter robot accounts taking advantage of adding a city name to their auto-posting of classified ads. When I search for the term Vancouver, I now also see a list of annoying classified posts from various "for sale" bots. I was so annoyed by this that I even tried Twitter's LEAVE and BLOCK commands but apparently, the spam classifieds still show up in Twitter search results. Luckily, there is a solution to remove spam from your Twitter searches.
User Twitter Commands and Operators to Fight Twitter Spam
Since neither LEAVE nor BLOCK was able to filter Twitter spam in search results, I tried using a typical "-" operator, a common function used in many search engines, and sure enough, that worked! So if the Twitter spammer's handle is @sellyourstuffusingtwitterspam, you would type it into Twitter search (without the @ sign) following your keyword. In my case, the keyword was "Vancouver". This will remove any tweet that contains Vancouver AND the spammer's username, essentially, filtering all their spam tweets out of your search results. Here is how your spam filtered searches would look like:
Filtering 1 Spammer:
Vancouver -sellyourstuffusingtwitterspam
Filtering 2 Spammers:
Vancouver -sellyourstuffusingtwitterspam -anotherspamusername
This little minus (-) operator has helped me gain control of Twitter search once again allowing me to completely remove all spam ads with a city name. In fact, I was surprised Twitter has not disabled these bots from auto posting free classifieds in Twittersphere. But luckily, there was a fix. I hope the above tip can help you enhance your Twitter experience.
After discovering a way to filter out spam from Twitter search, I did some research and found that Twitter indeed has many commands (for accounts) and operators (for searches) that users can utilize to help manage their Twitter accounts.
Enjoy spam-free searching on Twitter again. I know I am!