Recently, I ran into a major road block trying to record a few news clips from an HD DVR / PVR to a PC. A ton of research pointed me to try using firewire to download videos from the DVR to a PC. Unfortunately, there were no drivers available from Motorola for the DVR in question. There were, however, third party drivers available but they were not supported in a Windows 7 64-bit environment. Even if they were, I would not have installed them regardless since it was not supported by Motorola. My only option was to find a cost effective way to capture directly from the HDMI or component out of the DVR. Here is how to download and capture video from an HD DVR; see final video below.
AverMedia Game Capture HD versus Hauppage HD PVR
Capturing via HDMI was not an option as this port on the DVR has copyright protection. In addition, @StephenFung from FutureLooks reminded me that equipment that can handle capturing video via HDMI was professional-grade and would cost accordingly. The only option remaining was to capture via component out. The two options available are Hauppage's HD PVR and AverMedia's Game Capture HD (former ~$200; latter ~$150). These are dedicated units made to capture video signals from HD DVR's and game consoles like the Playstation, Nintendo Wii and Xbox 360.
Leaning Towards AverMedia Game Capture HD
A quick read of reviews pointed to the Hauppage HD PVR yielding higher video quality. But, I did see one Youtube video from the AverMedia Game Capture HD that was surprisingly much higher in video quality that the rest. It turns out that AverMedia has released a firmware update that bump recording bitrate from 10mbps to 15mbps. Additionally, the AverMedia unit allow you to record with USB harddrives where as the Hauppage HD PVR can only be used when connected to a PC (ie. it has no harddrive storage). To top it off, the AverMedia unit was 25% cheaper ($50) in price. Based on all these factors, especially the fact that you do not need a PC to make recordings, made the AverMedia Game Capture HD the preferred choice. Before I made the purchase, it was important to make sure video quality was indeed good enough and the recorded video (h.264 wrapped in AVI which is not a popular format) has to work inside Adobe Premiere Pro CS5.
So after reaching out to my tech friends, @MichaelKwan from MegaTechNews was gracious enough to lend me his AverMedia Game Capture HD for testing. Thanks Michael!
As you can see, this post is not a full review. For that you can check out Michael's review. I will keep this post on point to using the AverMedia Game Capture HD to capture video from an HD DVR.
AverMedia Game Capture HD Results
I found AverMedia indeed has a driver that bumped the maximum recording bitrate to 15mbps (from 10mbps). After flashing to the latest firmware, the captured videos are probably the best quality I have seen from all of the AverMedia Game Capture HD reviews and examples on Youtube. The recorded AVI files did not play nice with Premiere Pro CS5. But a quick re-wrap of the AVI to MP4 using XMedia Recode (a free must have for all your video needs – ie. converting movies so they play on iPad, iPhone and various devices) made the video compatible without loss of video quality.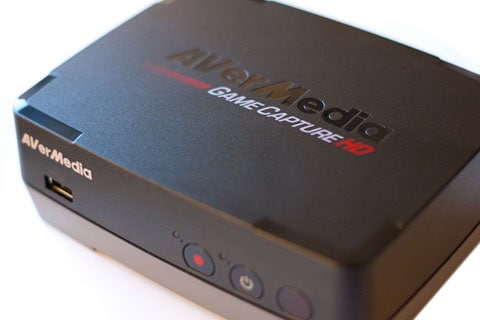 The video below was captured at 1080 60i (15mbps) and I added an intro and outro and exported it as a Youtube friendly video (720 30p at 5mbps). This 2 minute clip is pretty darn good as far as quality goes. It contains a mix of regular content and computer animation so this should give you a good idea on what the AverMedia unit can do.
Note that I did not use the supplied component video cables as I had a better set. You don't need super expensive cables but thicker, well insulated component cables (as a general rule when it comes to home theater guidelines) will give better results. Also note that most TV's and A/V receivers cannot convert HDMI signal to component but if you have one that can do this, you should be able to use the AverMedia Game Capture HD to capture videos from your Apple TV. This would actually be very helpful in making Apple TV tutorials.
For a very long time, it took users a lot of tech know-how and some luck to download videos from their HD DVR's. Today, anyone can do this cost effectively using the AverMedia Game Capture HD.