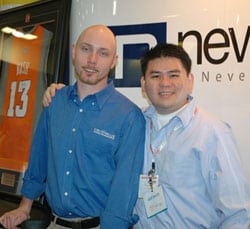 I was away for a few days attending AdTech 2007 in San Francisco. Thanks to Jordan Visco, VP of Affiliate Marketing, from Neverblue Media for extending to me an exhibitor and a Guest of AdTech pass. The latter allowed me to listen to a few speaker sessions at the show. To the right is a photo of Jordan and I at the Neverblue booth at AdTech 2007 San Francisco. Click on the photo to get a better look at the awesome Steve Nash jersey booth prize! Thanks again Jordan.
Exhibit Hall
AdTech San Francisco 2007 took place at the Moscone Convention Center. The exhibit hall was large and well laid out. Almost 300 companies exhibited and it was interesting to see how each booth was themed. Most booths were colorful and attractive at first glance but in my opinion, not many did a good job at delivering the company's essence. It took speaking to a booth rep before knowing exactly what many of the companies had to offer. At a tradeshow where there were so many booths to get through, you can be sure that many potential clients were not engaged due to poor booth designs.
Speaker Sessions
I attended a few speaking sessions and learned some things. You always learn something but the question is how much did you learn and was it worth it? In short, was what you learned more beneficial than walking and networking in the exhibitor hall? Glad I had a chance to do both at this show.
The People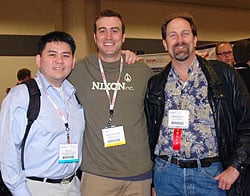 In my line of work, often times I never actually get to meet partners and suppliers face-to-face as most of the business is conducted online and over the phone. It was quite nice to finally put some faces to names with people that I have worked with over the years. I not only got to strengthen some existing relationships but equally important, I had a chance to meet some potential partners in person and talk business. For me personally, relationship building was probably more worthwhile than attending the speaker sessions at this show. I didn't get a chance to take too many photos during meetings but did remember to ask someone to snap a photo when I bumped into Brian Littleton and Brad Waller on the show floor (above right). It was nice to see quite a few familiar faces at this particular event. Here are a few more.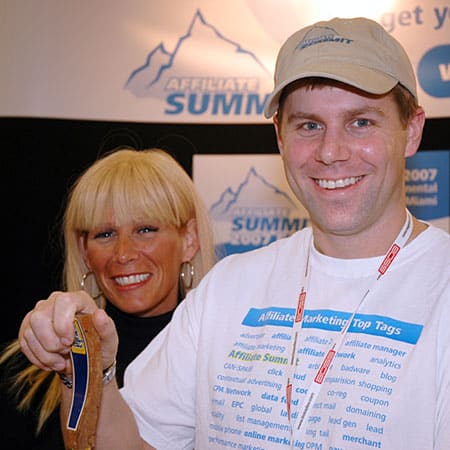 I also wanted to thank Rackspace for inviting me to their Rackspace on the Road party in San Francisco. The get together was by invitation only and was meant for current and potential customers to meet and greet with employees. It was nice seeing so many customers and employees who are complete believers of Rackspace's Fanatical Support and services. Thanks for the nice evening.
San Francisco
AdTech San Francisco 2007 was a good conference and I was glad I attended this year. But the most memorable part of the trip was in fact, getting to experience a little of San Francisco. I had quite a few chances to sample some of the good food while I was there. From the freshest seafood to authentic Japanese dining to fusion Singaporean cuisine, I can clearly say that, for me, the good food and exploring the city was probably equally memorable than the actual tradeshow on this trip. Here are a few AdTech Photos 2007 from my San Francisco trip. Click on them to view a bigger version.