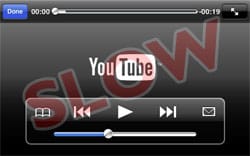 After a few hours of testing (& hair pulling), I was finally able to use an iPhone to view YouTube videos on a Wi-Fi connection without the dreaded buffering problem. For those who are also suffering from slow YouTube connections on your iPhones over Wi-Fi, here is a fix.
There is more than enough evidence out there that when using an iPhone over Wi-Fi, YouTube videos are barely (if at all) watchable. Here are a few of these discussions:
YouTube Really slow on iPhone
iPhone 3G + Wi-Fi + YouTube = Slow!
Something is bottle-necking the connection and most videos are extremely slow to load or they simply time out. Ironically, the hang ups do not happen when viewing YouTube content on the slower 3G network; the problems only occur over Wi-Fi. Having read quite a few online discussions about this problem, I began methodically testing variables on our Linksys WRT54GL wireless router.
Here are some of the most relevant settings that were tweaked:
Afterburner
Frame Burst
SecureEasySetup
Wireless Channels
Bradcasting SSID
Wireless Network Mode
Currently, the wireless network is set to G-Only since this was the best setup for our office. It was only when I switched the Wireless Network Mode to B-Only that YouTube videos began watchable again. None of the other settings had any effect.
YouTube Videos Play Fine on Slower 3G Network; Not Wi-Fi
So why would watching YouTube videos on the slower 3G network play fine but not over the speedier G-Only Wi-Fi? While on the 3G network, the lower resolution of YouTube videos are downloaded while on Wi-Fi, the higher resolution of the video would try and load. So the reason why video would play well on the slower 3G network is because a lower resolution video is being loaded.
iPhone YouTube Wi-Fi Slow – RESOLUTION not SOLUTION
Sure, B-Only wireless settings allowed the iPhone to view YouTube videos but the Speedtest.net iPhone app does show slower speeds while the router setting was on B-Only versus G-only. Not only just for the iPhone but using B-Only would slow down the entire wireless network in the office. Although B-Only was a fix, it was not a solution. Needless to say, after finding this fix, our router was re-setup for G-Only.
After hours of testing, I believe this hiccup has something to do with Safari on the iPhone and its ability to run YouTube videos properly over Wi-Fi on 802.11g. Everything seems to work smoothly over 802.11b.
Let's hope Apple has a fix on the next update! In the meantime, if you really need to watch YouTube videos on your iPhone, try using the built-in YouTube app on your iPhone to view them or set your wireless router to B-Only mode.