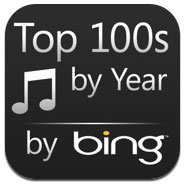 One of the benefits of mass consumer adoption of mobile technology is that many companies are beginning to develop some very cool and useful applications. Not all Smartphone apps are useful but the latest app offering from Microsoft is an interesting one and the way they are making the offer is sure to trickle to other app providers. For a limited time, you can download the Top 100s by Year by Bing iPhone app for free. As the name of the app implies, you can literally listen to the Top 100 songs between 1947 and 2009… for free. No strings attached. You will, however, get popup reminders in between a few songs to remind you to download the Bing app. To be able to listen to thousands of songs for free, I think this is something all users can live with. I can only imagine how royalty payments (if any) are tracked and how long Microsoft will offer this for free. If you love music and have an iPhone, iPod touch or iPad, install the app now.
Do you think this free giveaway will help Microsoft increase Bing app installs? Only time will tell but giving mobile users the ability to listen to thousands of Top 100 songs for free is definitely a great incentive for any campaign in my opinion; one that only few companies can even consider offering.
Note that you will need a US iTunes account or read these instructions from Apple on how to create a US account and then go download and install the app. Here is the official description
Hear thousands of the greatest songs of all time.

This $1.99 app is offered for FREE by Bing for a limited time.

Please help keep this app free longer by downloading the Bing app now.

What were the top songs for 2009, the year you were born or graduated from high school?

Spin the wheel to find the year you want to hear. Click and listen. View the list to find the #1 song for that year, from 1947 to 2009.

These lists are not solely based on the Billboard charts and record sales, instead, these are lists of songs that have stood the test of time based on their initial and lasting popularity, and on their impact on the overall scope of musical history.

Feedback is welcome at forums.nutsie.com.

The songs are streamed in shuffle mode like a web radio station through 3G, Edge or Wi-fi.

Enjoy!